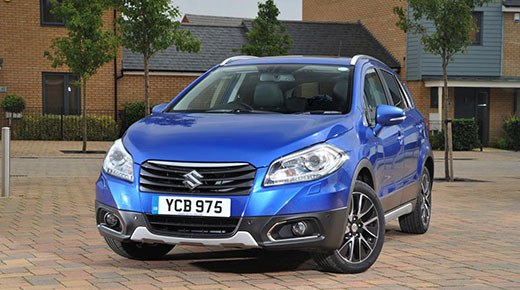 The New Suzuki SX4 S-Cross
The new Suzuki SX4 S-Cross has been designed to bridge the market gap between a family hatchback and the more traditional 4×4.  It takes Suzuki into an area of the car market it has never competed in before, with the Suzuki SX4 S-Cross set to take the crossover class by storm.
The line-up is straightforward. There are four trim levels: entry SZ3, including alloy wheels and air conditioning; smart SZ4, which, with its enhanced exterior styling is likely to be the best-selling; business-orientated SZT, with sat-nav, Bluetooth and reversing camera; and range-topping SZ5, which features an enormous panoramic sunroof and leather upholstery.
Every version is available with a 120hp 1.6-litre petrol, while the SZT and SZ5 variants are also offered with a 120hp 1.6-litre turbodiesel. Both engines offer class-leading levels of efficiency. In fact, every version is at least one tax band lower than the nearest competitor, with the diesel emitting as little as 110g/km CO2 – meaning £35 annual car tax – and returning over 67mpg.
There's also a choice of both front- and four-wheel drive – the latter a new 'intelligent' system with four switchable driving modes, drawing upon Suzuki's extensive 4×4 expertise. A manual gearbox comes as standard, but the petrol is also offered with an optional CVT automatic.
In addition to being well-made and versatile the Suzuki Sx4 S-Cross offers a large amount of boot space and there's plenty of passenger legroom front and rear . The S-Cross engines are willing, and the chassis responds keenly to spirited cornering while proving both stable at motorway speeds and impressively supple over bumpy town centre surfaces, creating a fun to drive experience.
There's even enough ground clearance for some light off-roading, and the four-wheel drive lock mode will certainly get you out of trouble in a muddy field. The Sport setting improves on-road handling, and there's even a mode specifically for snow. Auto takes care of you the rest of the time.
Overall the new Suzuki SX4 S-Cross has a real go-anywhere, do-anything feel – making it an ideal choice if you've got an action packed lifestyle or simply want to get the kids to school in comfortable crossover style.
Similar Articles
The bold yet refined new Suzuki S-Cross 2022 has now been released, packed with new premium features and advanced safety equipment as standard, leading as one of the best in it's class.
The All-New Suzuki SWACE  Watch this space, for the new Suzuki Swace. Suzuki have had an transformative year and more is still to come. Suzuki have recently announced their second product derived from the newest partnership with Toyota, the all-new Suzuki Swace. The new, super spacious, estate car is a fully self-charging hybrid with a […]
Suzuki showcases their first plug-in hybrid SUV – the ACROSS Suzuki have announced the newest addition to the family, the Suzuki ACROSS, the first plug-in hybrid best described as a sophisticated family SUV. Powered by two brains rather than one, Suzuki and Toyota confirmed their collaboration in March 2019 and the long awaited all new […]