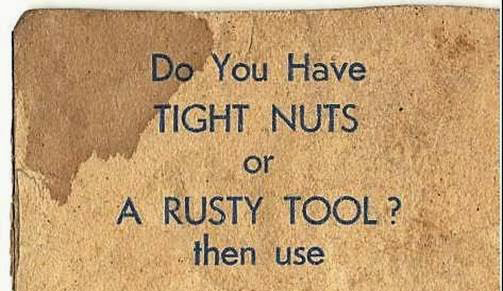 WD-40 print advertisement full of sexual innuendo
This was a great find on the internet earlier – A 1964, WD-40 print advertisement full of sexual innuendo.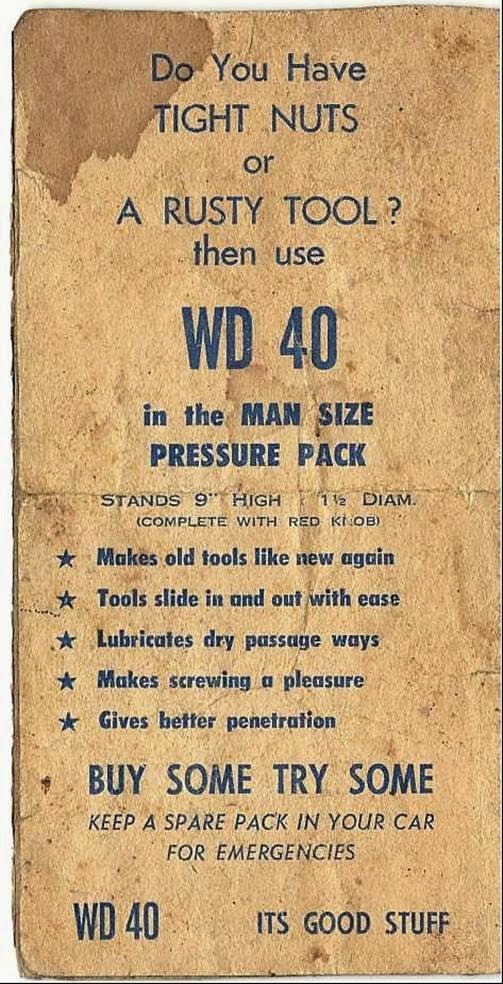 After a little research, we found that this picture was first seen circulating on the internet in November 2014.
Sadly, this supposedly "First release" printed advertisement does not match up with WD-40's actual timeline. The WD-40 product was made commercially available in San Diego in 1958, eight years before.
There are also several aspects of the advertisement that shout out fake. First, we could only find this image of the advert; if the ad were genuine, there should be more than one photograph documenting its existence. Secondly, While the paper advertisement appears old and crinkled, the lettering remains straight, indicating the text is probably nothing more than a digital overlay placed onto an "old wrinkled page" background image, an easy task for a photoshop whizz. Finally, the image describes the product as "WD 40" when its name is, and always had been, properly rendered as WD-40 (or
WD*40
), and the biggest give away is the reference to a "red knob" that wasn't yet a feature of the product in 1964. (the distinctive red cap that we all associate with cans of WD-40 today was originally black).
Genuine or not, this gave us giggle in the office and a nice bit of FREE advertising for WD-40.
Similar Articles
T W White and Sons are excited to announce that we have moved our longstanding Bookham dealership from its Lower Road location to the A246 Guildford Road, Bookham KT23 4HY. This heralds a new era for the Bookham branch which has been sited on Lower Road for nearly 40 years. We're very excited to welcome […]
The Ultra Low Emission Zone (ULEZ) in central London was introduced in April 2019. The ULEZ enforces a fee on certain vehicles driving through the designated area based on the manufacturer's declared emissions levels. Essentially, any car, motorbike, van, bus, coach or lorry used in the ULEZ zone must meet the minimum ULEZ emissions standards […]
Yet more awards for the Mazda 3, as it is crowned Best Small Hatchback at the 2020 UK Car of the Year Awards. In a world that seems dominated by SUVs, there's one car that proves why there will always be room for the hatchback – the All-new Mazda 3. It's already received plenty of […]