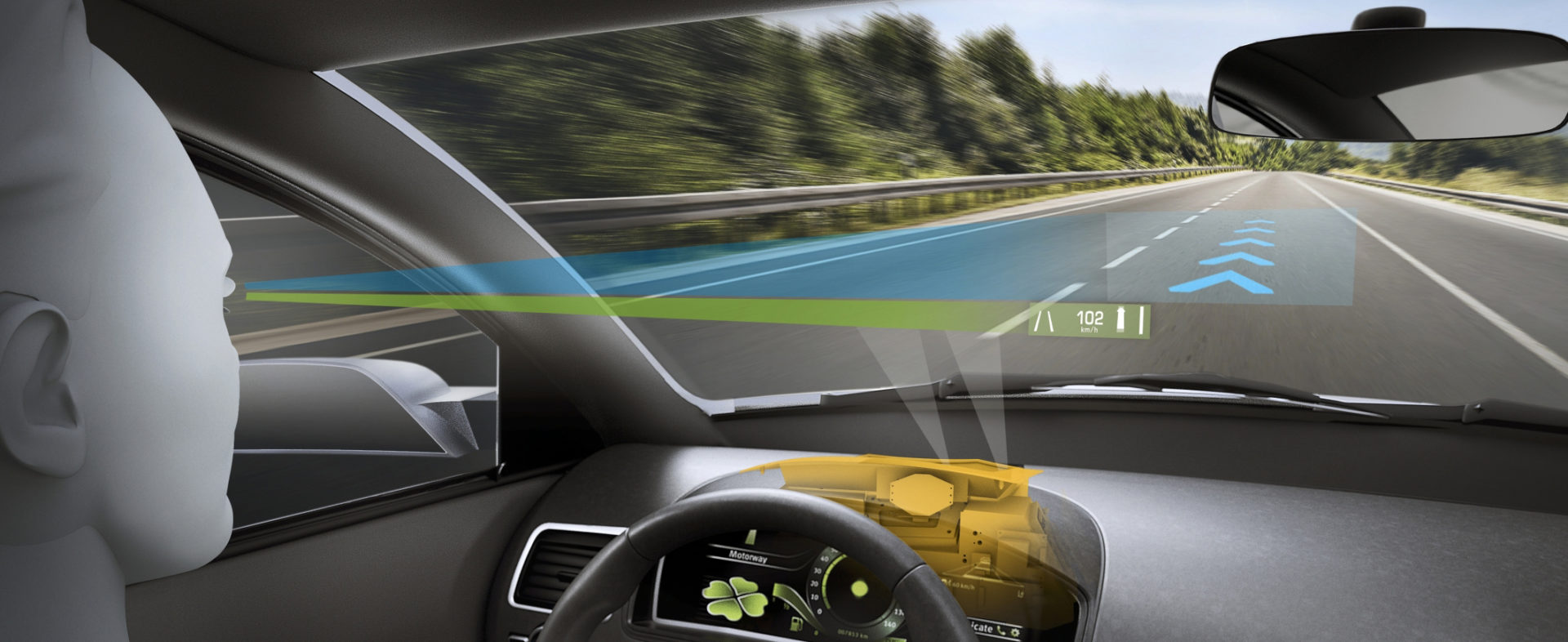 The Future of In-Car Technology – Gadgets
Part 2 of our look into the future of in-car technology focuses on the less vital, but no less interesting, gadgets that we may in our cars over the next few years.  If you missed part 1 where we focused on safety, security and driverless technology, click here.
Active window displays and augmented reality
Head-up displays (HUD) are the first step towards in-car technology that we might see in the next few years.   By extending the technology to cover the entire windscreen, cars could display more information clearly and easily for the driver, such as speed and fuel level, without the driver having to take their eyes off the road.  And imagine, rather than a sat nav telling you directions and glancing at a small map on your dash, having the directions projected onto the road itself.  It could tell you what lane to be in, the speed limit, where to turn and exactly where your destination is.
Add to this cameras instead of wing mirrors, creating an image of the road to the side and behind which could also be displayed.  These new features would reduce the risk of accidents by removing blind spots and stopping drivers having to spend time looking away from the road.
Personalised Zones
Companies such as Harman and Mercedes are working on ways to adapt the environment of each passenger.  Mercedes has invented a two-way media display, which shows a different image to the front passenger and driver.  This would allow the passenger to use the display to watch videos, browse online and look up information without distracting the driver.
Other personalised in-car technology in the works is Harman's Individual Sound Zones (ISZ) for each passenger.  It does this by combining micro-headrest and speaker systems, and sound cancellation technology called HALOsonic to eliminate road noise.
Smart Phone Integration
More and more manufacturers are trying to improve the level of smart phone integration.  But it's not simply improving the use of phones and applications on the in-car display. Manufacturers are also trying out new ways to turn your phone or smart watch into a remote control for your car.  For example, Hyundai's Blue Link app allows owners to remotely start and stop, unlock and locate their cars.  It also allows you to set the air conditioning to have the car at the perfect temperature for your journey. No more sitting in cold cars waiting for the windscreen to clear!
Internet Connection
While we have limited internet connection via phones, the current in-car technology lacks the speed and reliability. It's far easier to just pulling over and googling something on your phone.  Apps like Google Maps provide navigation with live traffic updates and accurate live arrival times. In comparison, the sat nav offered by in-car units or even separate units looks outdated and inaccurate.  But if in-car displays had internet capability, they could provide the same live feed as your phone, without having to stop driving.  This would also be handy when trying to find somewhere to park or eat in an unfamiliar place. Simply connect to the internet and display local amenities on on-board map.
On-Board Control
Current on-board button and knob controls take the driver's eyes of the road and are often difficult to use accurately.  The introduction of touch screen displays has gone a long way to improve things, but there is other in-car technology in development to make the process even easier.   The most common form of alternative control is voice recognition. However this technology can often be inaccurate and frustrating.  But as time goes on the technology will improve.  Another method being tried by the likes of BMW and Volkswagen is gesture control.  Similar to the motion tracking technology in Xbox Kinect, the system "watches" movement, and certain gestures will act as a prompt.  But like with the Kinect, this technology may be made redundant by better voice recognition or new control innovation before it comes into common use.  And given the ease of using current steering wheel controls, it seems unlikely drivers will take the time to learn and perfect the specific gestures required.
To find out what today's new cars can offer by way of in-car technology, click here, or contact one of our sales sites.
Similar Articles
Although Hybrid and Electric cars remain a niche market in the UK, their popularity is growing overall. A brief look at the SMMT registration data can give you an idea of where the market currently stands: Battery Electric Vehicles (BEVs): September 2021 showed 32,721 cars sold, a 49.4% increase since 2020 Plug-in Hybrid Electric Vehicles […]
Suzuki continues to shake up its engine line-up, announcing the introduction of a self-charging hybrid engine launching early next year Suzuki are bringing hybrid to their entire range* next year, with an all-new self-charging hybrid engine for the Swift Sport, Vitara and S-Cross. This new 48V hybrid will replace the outgoing 1.4-litre manual engine in […]
Suzuki are bringing some new and exciting concept cars to the 2019 Tokyo Motor Show. Suzuki are bringing the fun to the 2019 Tokyo Motor Show, including two all-new concept cars, as well as showcasing their continued commitment to overall mobility. This is all being done under this years theme – "WAKU WAKU for EVERYONE: […]