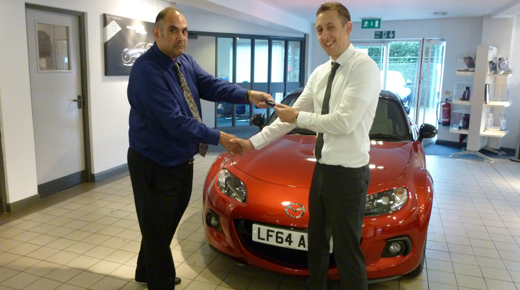 New '64 plate registration
Remember, Remember the 1st September! It's one of the two most important dates in any car dealership's calendar – plate-change over day! The new '64 plate cars are heading out onto the roads today, and our customers aren't letting the grey English weather detract from the excitement and pride of driving out their new cars!
At T W White & Sons we have enjoyed a busy day handing over number of Brand New '64 plate Mazda, Hyundai and Suzuki throughout the group.
One of the first to collect was Mr Howard, who picked up his new '64 plate Mazda MX-5 25th Anniversary Limited Edition.
Mark Hammond, Sales Executive at T W White & Sons Bookham said "There is always a shared excitement when handing over the keys of a new car, but plate changing day brings an extra element of enjoyment when you are handing over so many new cars in one day, all to enthusiastic owners."
The excitement doesn't just stop at 1st September. Our Sales sites have a few days ahead handing over a large number of cars across the group over the rest of the week.
With the launch of the '64 plate, the DVLA had a busy time sifting out risqué combinations of number plates that could be cause offense to other road users. According to the Sunday Times, a total of 120 potentially offensive number plates were removed from circulation – OH64LLS!
Luckily, our customers today all seemed to drive away happy with their '64 plate combination.
Did you pick up a brand new '64 plate car today? Or have you seen any exciting '64 plates out and about on the roads yet? We'd love to hear from you through our official Twitter and Facebook pages.
Similar Articles
The Ultra Low Emission Zone (ULEZ) in central London was introduced in April 2019. The ULEZ enforces a fee on certain vehicles driving through the designated area based on the manufacturer's declared emissions levels. Essentially, any car, motorbike, van, bus, coach or lorry used in the ULEZ zone must meet the minimum ULEZ emissions standards […]
As a Mazda YourWay dealership, we are committed to making your experience with us as pleasurable as possible. We are pleased to be able to offer video vehicle presentations, at home test drives and home delivery of vehicles. Mazda YourWay – Test drive from your driveway At T W White and Sons our aim is […]
More changes are coming to car tax in April. Make sure you know what's to come and how you can avoid paying more than you need to. The new financial year will be bringing some changes to car-related taxes for private and company car drivers alike. So before April rolls around, here's a quick summary […]