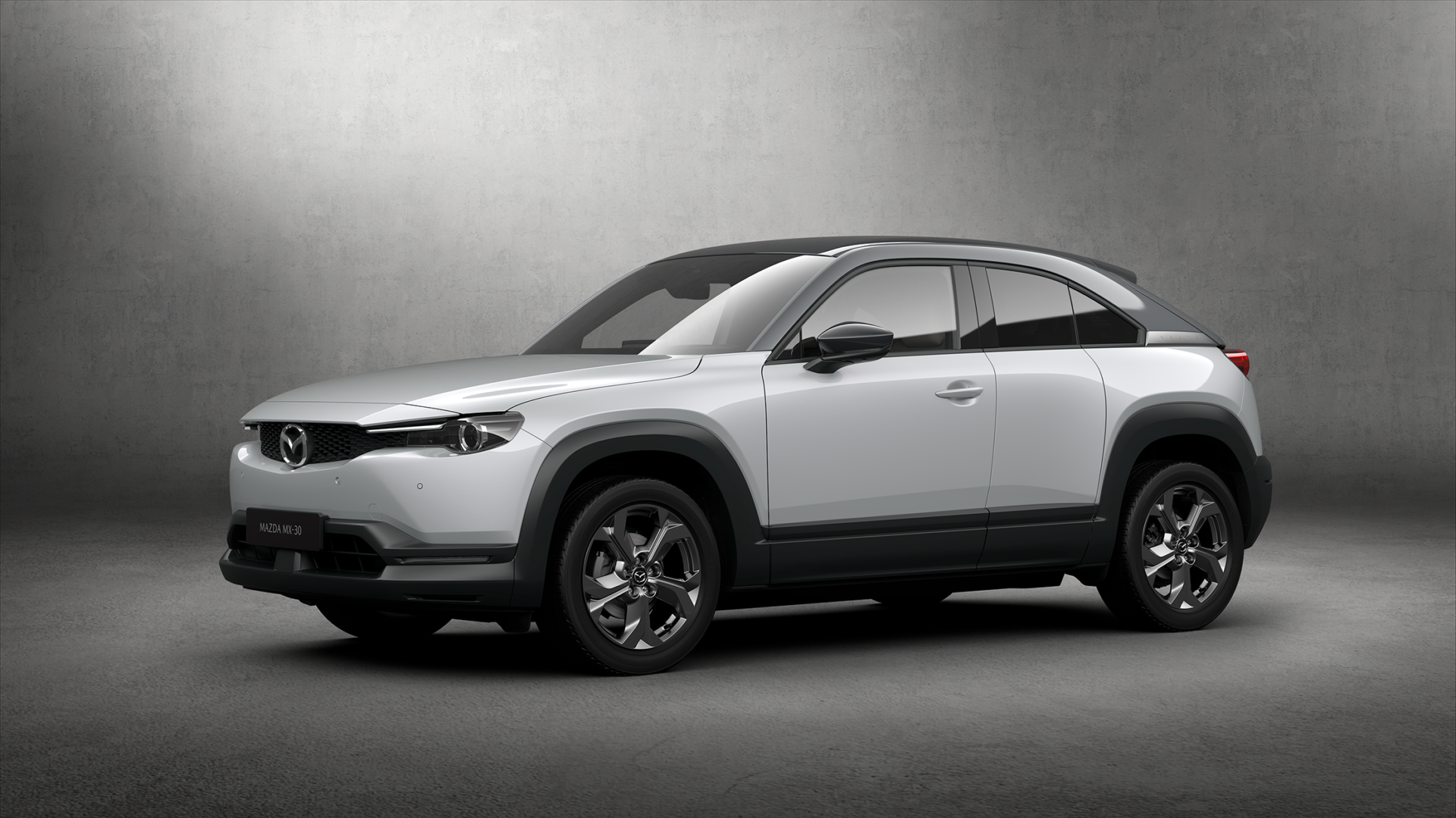 Mazda MX-30 Revealed at Tokyo Motor Show
Mazda unveils their first Battery Electric Vehicle at the Tokyo Motor Show – the Mazda MX-30.
Mazda have revealed their first-ever production electric car at the Tokyo Motor Show this week, making their first full steps into the world of electrification. This all-new model, labelled the Mazda MX-30, will offer customers a unique proposition. And in true Mazda style, they've taken a different approach to the battery electric vehicle (BEV).
[su_youtube url="https://www.youtube.com/watch?v=xXQrvDzggco" width="920″ autoplay="yes"]
MX-30 – an electric car for the environment and the driver
Mazda has always been a brand for people who love to drive. So there's no surprise that Mazda have taken this approach to develop their first fully-electric vehicle. Rather than opting for a large, heavy battery, the MX-30 has a smaller, lighter battery that is rigidly integrated into the vehicle body structure. While this means the MX-30 will offer a more modest range of 125 miles, Mazda are confident this will meet their customers' needs. They quote that, for European customers, the average daily mileage is 30 miles.
Mazda has also taken steps to ensure that the environmental consideration goes beyond just the engine. The MX-30 will be made from ecological materials, in keeping with Mazda's well-to-wheel outlook on the environmental impacts of their cars.
Eye-catching design
In line with Mazda's move to offering more premium products, the MX-30 is elegantly designed and expertly finished, inside and out. The exterior reflects the continued evolution of Mazda's award-winning KODO: Soul of Motion design. They have applied the process of "less is more" to create a sense of flow and oneness from front to back. the MX-30 also features unique freestyle doors, which give the car a distinctive silhouette.
Inside, the MX-30 has been given the same careful thought in terms of design and materials. Where possible, eco-friendly materials have been introduced, including replacing real leather with a vegan alternative. Environmentally sourced cork has also been used in the centre console.
Interestingly, this SUV has been given the MX prefix, most commonly associated with the MX-5 Roadster. Mazda has said that the MX prefix has been used on several products that were designed and engineered to challenge the assumptions in the industry at the time. With the innovative and unusual approach that Mazda has taken, it, therefore, feels like a highly appropriate label.
Arriving in 2021
So when can we expect to see the MX-30 hitting the UK market? Sadly, it'll be a while, with the current planned launch falling in early 2021. However, pre-orders will open around Spring 2020.
Similar Articles
The Ultra Low Emission Zone (ULEZ) in central London was introduced in April 2019. The ULEZ enforces a fee on certain vehicles driving through the designated area based on the manufacturer's declared emissions levels. Essentially, any car, motorbike, van, bus, coach or lorry used in the ULEZ zone must meet the minimum ULEZ emissions standards […]
As a Mazda YourWay dealership, we are committed to making your experience with us as pleasurable as possible. We are pleased to be able to offer video vehicle presentations, at home test drives and home delivery of vehicles. Mazda YourWay – Test drive from your driveway At T W White and Sons our aim is […]
More changes are coming to car tax in April. Make sure you know what's to come and how you can avoid paying more than you need to. The new financial year will be bringing some changes to car-related taxes for private and company car drivers alike. So before April rolls around, here's a quick summary […]