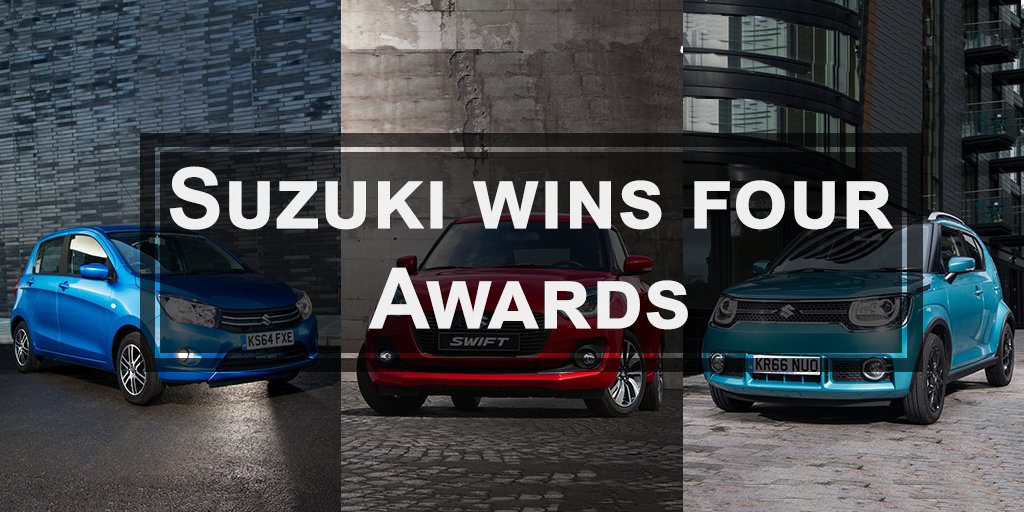 Four awards in four days for Suzuki
It's been a fantastic week for Suzuki, who has been awarded not one, but four awards!
It's always great to see fantastic cars getting the recognition they deserve.  And this week has been a phenomenal one for Suzuki, winning four awards – two for the all-new Suzuki Swift, one for the Suzuki Ignis and one for the Suzuki Celerio.  Suzuki is well known for the quality of their small car range, and this week's awards are further proof of this.  Here's a rundown of which car won what.
Two awards from the Scottish Car of the Year
Two of Suzuki's award haul comes from the Scottish Car of the Year.  These awards are conducted by the Association of Scottish Motoring Writers.  Over 12 months, 15 members of the Association undertook an intensive testing programme before meeting to decide which cars topped the list for each category.
This year's awards saw Suzuki named victorious in two categories.  The all-new Suzuki Swift, launched in June, was named the Eco Car of the Year for its 1.0-litre Boosterjet engine.  And in the Compact Car of the Year category, the Suzuki Ignis triumphed.
Two awards from the Green Apple Foundation
Adding to its Eco success in Scotland, the all-new Suzuki Swift has been awarded another honour for its environmentally friendly technology. It has been named the Small Car of the Year at the Green Apple Awards. According to one judge, it is the Swift's combination of "space, economy and a great drive with a welcome dash of fun" that saw it beating out the rest in the highly competitive small car segment.
The Suzuki Celerio was also awarded for the third year in a row. When discussing the Celerio's continued success at the awards, one of the judges commented, "I think small cars with small but sprightly and highly efficient petrol engines are helping to transform the automotive industry currently and Suzuki's offering in the shape of the Celerio is one of the best."
The Green Apple Awards, started in 1994 by the Green Apple Foundation, highlights and celebrates the companies, organisations and products that are making a real difference in terms of reducing environmental impact.
We're so pleased for Suzuki and hope this is the first of many awards recognising their fantastic cars.
To find out more about Suzuki and their range, visit our website or contact our Effingham sales team.
Similar Articles
The Ultra Low Emission Zone (ULEZ) in central London was introduced in April 2019. The ULEZ enforces a fee on certain vehicles driving through the designated area based on the manufacturer's declared emissions levels. Essentially, any car, motorbike, van, bus, coach or lorry used in the ULEZ zone must meet the minimum ULEZ emissions standards […]
As a Mazda YourWay dealership, we are committed to making your experience with us as pleasurable as possible. We are pleased to be able to offer video vehicle presentations, at home test drives and home delivery of vehicles. Mazda YourWay – Test drive from your driveway At T W White and Sons our aim is […]
More changes are coming to car tax in April. Make sure you know what's to come and how you can avoid paying more than you need to. The new financial year will be bringing some changes to car-related taxes for private and company car drivers alike. So before April rolls around, here's a quick summary […]