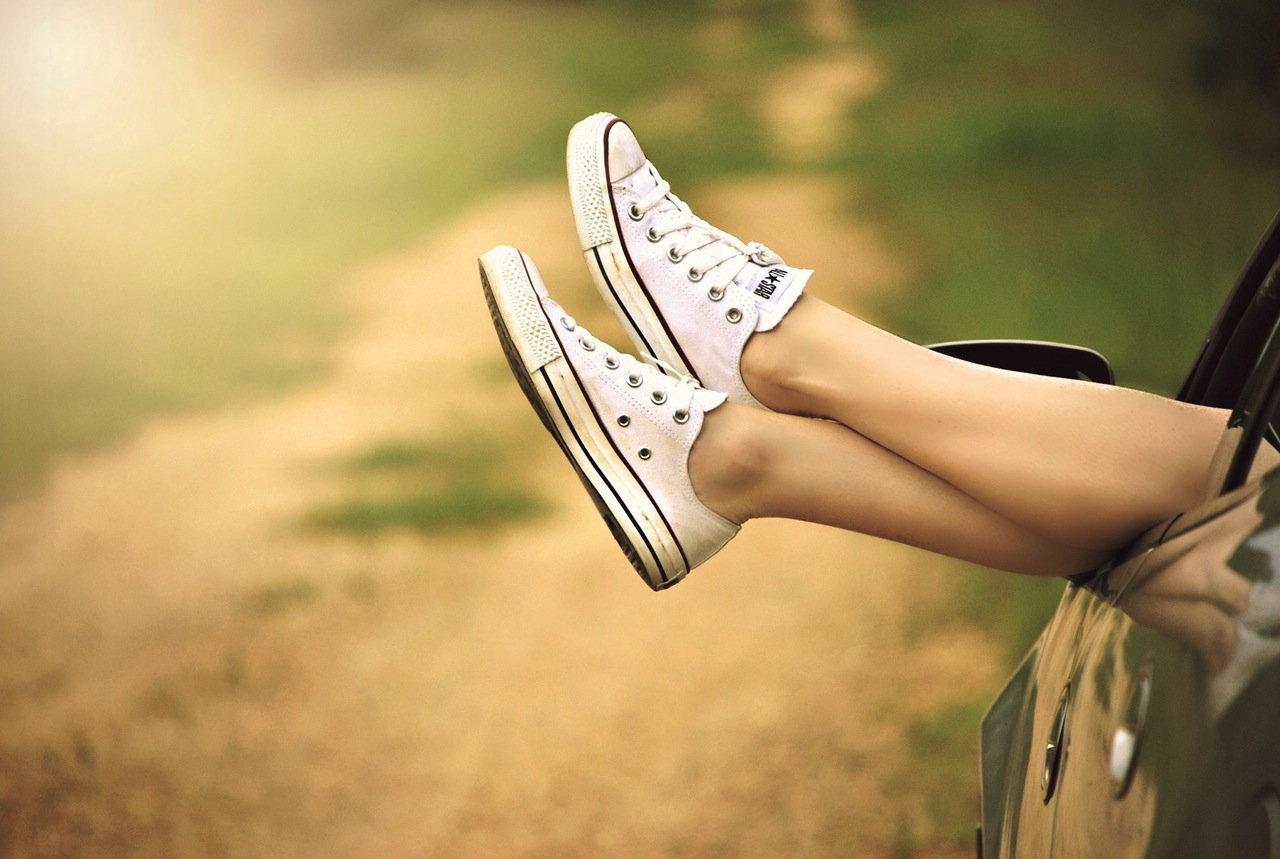 The Best Cars for Students
Eager to get the keys to your new car, but only just started driving? A small car is the best option to consider as they're easier to manoeuvre and park. Price and running costs are usually the main aspects you'll be thinking of when choosing a first car and picking the right insurance and car at a price that suits you can often be time consuming and a little daunting! That's why we've created a roundup of the best, most stylish cars for students and new drivers.
Things to consider
When you're picking a car to take to university with you there are a few factors to think about. Unless you already have an unconditional offer it's best to wait for your results to come out, especially if you have a wide range of course choices and universities on your shortlist. You may end up in a city based university where you would be better off using public transport to get around and in which case may want to re-think your car choices. Also, consider how far away from home your university is, how often you expect you will come home, how much stuff you are planning on taking to/from university on a termly basis and the rail or bus links available.
If you are looking at working in a part time job during your studies, or joining a society which involves traveling (for example to sports matches or exhibitions) a car will greatly open up your options! These considerations may also shape the kind of car you're looking at, especially if you're studying Music and play the Double Bass, or are going to sign up for a sports team that involves carrying a lot of kit around – make sure your vehicle fits the bill.
Don't buy a lemon
It's also easy to be blindsided by a low up front cost or to go straight for the car you've always wanted, even if it means getting a 20 year old model with 200,000 miles on the clock and Category C or D accident status! When picking a new car it should really be head over heart as there is nothing worse than breaking down in the rain on a busy motorway after an exhausting away match or field work excursion, or spending most of your student loan on insuring a sporty number with racing stripes for it to then fail its MOT a month later. We would recommend considering the cost of the car overall, including purchase price, finance arrangements, annual tax, running costs (fuel, insurance, breakdown cover, congestion charges, parking, time to next MOT, tyre condition), reliability and resale value in your decision. As a general rule, look for good condition vehicles, low mileage (not above 50,000 miles) and warranty options as a key point.
The good bits
At T W White & Sons our new and used cars all meet stringent standards, including our rigorous101 point pre-sale health check. We also offer 3 year warranties on our used Mazda, Suzuki and Hyundai models which will help to keep you protected and avoid unexpected costs throughout your time at university. If you are looking to pay off the cost of your car over time then you'll be pleased to know that age is no prejudice and there is no minimum age for our finance lenders. If you're after a specific make or model of car which is not in one of our dealerships, our in house buyer can help out with sourcing the car through our dealer network or auctions and private sales so you can be certain of getting the correct car for your needs and tastes but with a full dealer health check and warranty.
Top student friendly cars
Here are our top picks of Student friendly cars which are not going to break the bank, yet stylish enough to happily offer all your new university friends a lift in:
Don't forget: Always remember to park responsibly and away from permanent residents' properties. When parking on campus you should obtain a permit and only park in designated car parks. Never drive home from a night out and be aware of other road users around the university campus, particularly cyclists and joggers.
Hyundai i10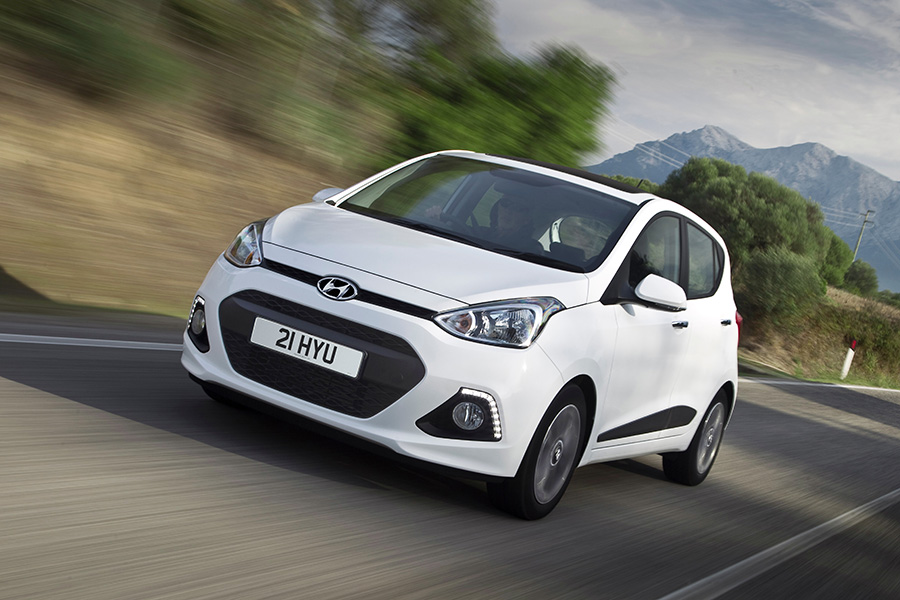 The Hyundai i10 is a multiple award winning classic, small city car and one of the best around. Featuring daytime running lights and a fluidic sculpture, the i10 is dressed to impress, yet the ideal small size is suited perfectly for driving in towns and cities where squeezing into tight parking spaces and coping with narrow lanes is a must.
If safety is one of the top elements of your list (which it should be!) then the powerful ABS system provides greater control under hard braking for those sudden and slightly unexpected stops. The smart tyre pressure monitoring system lets you know when your tyre pressure is low early on, avoiding damage to the tyres and an unexpected bill to pay for a replacement.
Entertainment system is also impressive for the size of car, with a USB input, AUX socket and RDS Stereo Radio / CD player to make the most of that Spotify student subscription. There is also universal praise for the handling of the car and the gear box making the i10 cheap to buy and run but a pleasure to own and drive.
If you're budgeting for university, you may want to consider a used Hyundai i10. These tend to range from £4,000 – £6,000 which should mean you can afford those compulsory text books too.
| | |
| --- | --- |
| Body | Hatchback |
| Engine | 998 cc |
| Transmission | Manual |
| Fuel | Petrol |
| Doors | 5 door |
| Seats | 5 |
| Drive | Front Wheel Drive |
| Co2 Emissions | 108 g/km |
| Tax Cost | £20 per year |
| Insurance Group | 1A |
Suzuki Celerio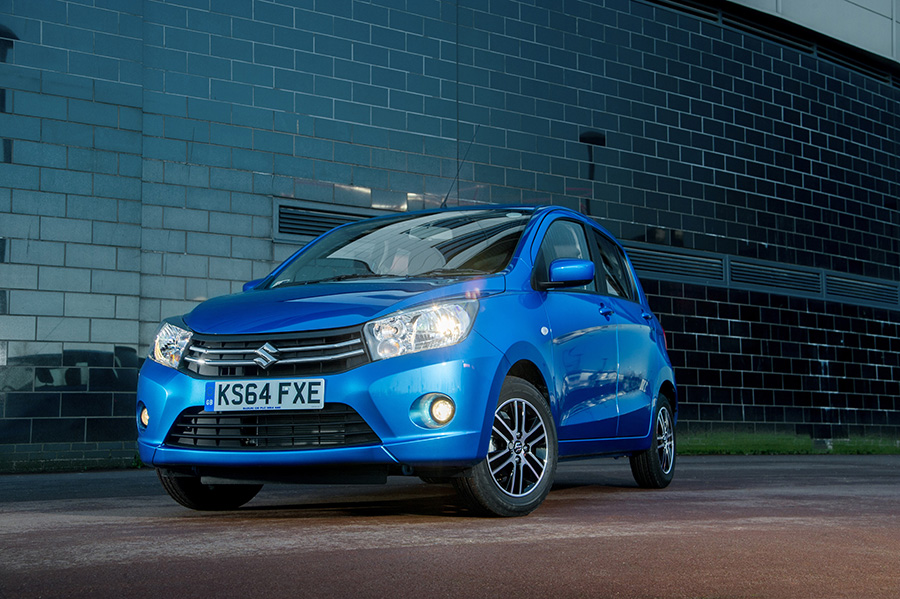 The Suzuki Celerio is a small car, yet boasts all the latest in safety and security. With 5 doors and plenty of boot space this car is ideal for shipping pretty much everything you own back and forth from university and the spacious interior, with comfortable cloth upholstery seats means that carting friends around won't be an issue.
With a tax cost of £0 a year, (yes, you did read that right!) that means more money to spend on weekly shops and coffees to keep you going during those tight deadline days (or another "last" drink on student night at the local club, but obviously not when driving!) Classed to insurance group 7E the Celerio is reasonably cheap to insure and a great shout for when you need to build up that no claims bonus.
The Celerio is packed with lots of standard kit including alloy wheels, air-con, a DAB radio, Bluetooth, phone charging and electric front windows and despite its size 4 adults can sit comfortably and fit their stuff in the boot too.  This is a great practical, value for money solution which should hold its resale value well when you want to part exchange it and buy something new when that graduate scheme starts paying out.
| | |
| --- | --- |
| Body | Hatchback |
| Engine | 998 cc |
| Transmission | Manual |
| Fuel | Petrol |
| Doors | 5 door |
| Seats | 5 |
| Drive | Front Wheel Drive |
| Co2 Emissions | 99 g/km |
| Tax Cost | £0 per year |
| Insurance Group | 7E |
Mazda 2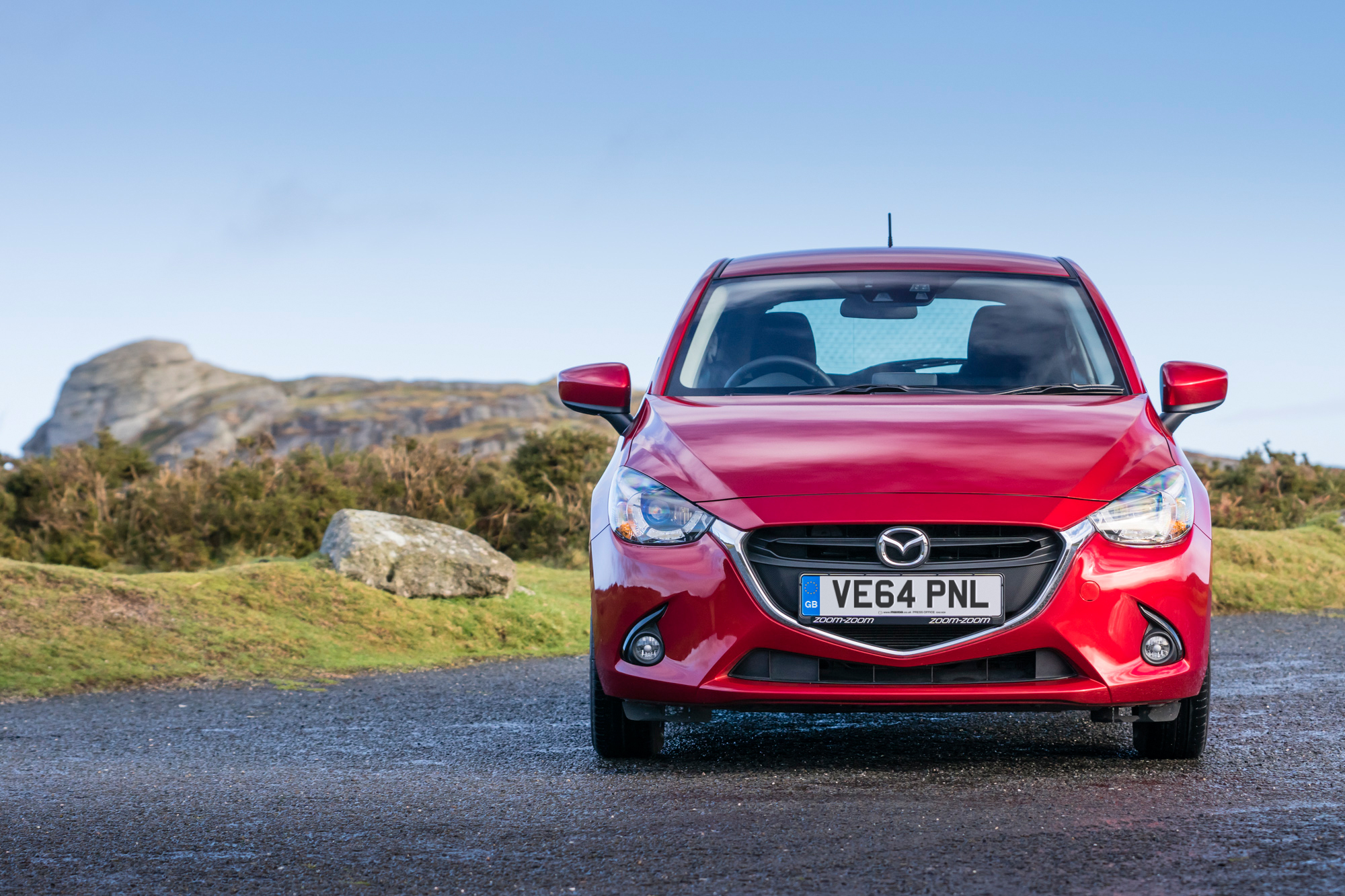 Bursting with energy and character, the new Mazda 2 is definitely a head turner and offers the perfect combination of fuel economy and performance to help you save the pounds on running costs! With a small cost of only £20-30 per year in tax costs, you'll probably spend more in library fines than you do on taxing this car!
The car is smooth and fun to drive, with a quick engine, good gearbox and quiet road noise. You can get a model with a 7-inch infotainment display screen which provides satnav, social media updates and internet radio streaming so whether you're on the move or parked up there's plenty to improve your experience. To keep the parents happy there are tons of safety features such as anti-lock brakes with stability and braking assistance to help increase the force of brakes in case of emergency. You also get Electronic Stability Control as used in racing cars to prevent dangerous spins and traction control to stop wheel spin when accelerating in the wet. If you can negotiate a higher spec model then there are blind spot monitoring upgrades to detect vehicles behind you and flash and buzz in the mirror if you haven't seen them. This works well with the lane departure system to warn you when you start crossing into another lane and autonomous emergency braking.
At T W White and Sons we pride ourselves on selling Mazda models including the Mazda 2. If budget is a key decision influencer for you, then another great option to consider would be an older generation or used Mazda 2. Older models tend to sell for over half the price of new models, ranging from £3,000 – £8,000.
| | |
| --- | --- |
| Body | Hatchback |
| Engine | 1,496 cc |
| Transmission | Manual |
| Fuel | Petrol |
| Doors | 5 door |
| Seats | 5 |
| Drive | Front Wheel Drive |
| Co2 Emissions | 110 g/km |
| Tax Cost | £20 per year |
| Insurance Group | 13E |
For other car recommendations, special offers and how to guides, head to one of our branches or follow us on Twitter or Facebook.
Similar Articles
The  Mazda 2 has just launched a new model to the award winning compact city car line up: the all-new Mazda 2 Self-Charging Full Hybrid. A collaboration using class leading Toyota hybrid technology, Mazda 2 Hybrid will help drive Mazda's commitment to a more sustainable future. The full hybrid supermini hatchback has two different power […]
With 4 models to choose from, and huge improvements made in its eco credentials, safety and overall style, Mazda have pulled the stops out to produce a reliable, versatile all-around compact hatchback.
Excited for the launch of Mazda's first plug in hybrid? The all-new Mazda CX-60 SUV will face its World premiere on 8th March, when more details about this exciting new model will be unveiled. Watch the live stream here: https://mzd.tools/Mazda-CX-60-Launch The Mazda CX-60 is the first of two new models from Mazda's "Large Product Group" […]