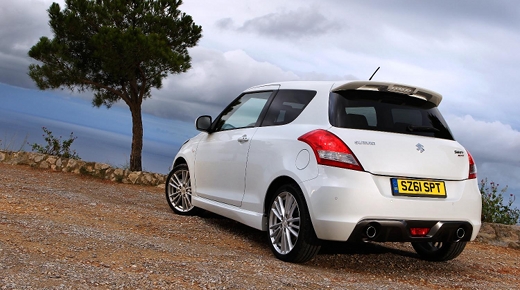 Suzuki Swift Sport vs Renault Twingo Renaultsport
The Suzuki Swift Sport hot hatchback has claimed yet another victory, and at the same time, another road test triumph over Renault's Twingo Renaultsport.
What Car? put the two tuned-up superminis head-to-head to determine which vehicle came out on top – the Suzuki Swift Sport emerged the winner.
What Car? said, "the Swift is more fun more of the time, and its smoother ride and greater refinement mean it has a greater breadth of talents. Throw in the fact that it's also faster, more economical, better equipped and cheaper to insure, and the Swift is a clear winner."
It's not the first time the Suzuki Swift Sport has batted away the competition, however. It also trumped the Twingo in Auto Express' twin test of the two vehicles.
Boasting 136hp from its 1.6-litre four-cylinder engine, not only is it more powerful than the Twingo Renaultsport, but also more practical.
Add to that excellent efficiency from the Suzuki Swift Sport – the car will return 44.1mpg combined with 147g/km CO2, whereas the Renault returns a claimed 43.5mpg combined with 150g/km CO2 – and running costs for the Suzuki over 12 month's motoring will be noticeably cheaper.
According to What Car?'s report, the Suzuki Swift Sport will actually save you over £750 in fuel costs over three years – combined with stronger residuals, it's certainly an appealing proposition.
Add that the Suzuki Swift Sport falls into insurance group 19 – compared to the Renault's group 21 rating – and this should help keep annual outgoings on the Japanese car down further still over the Renault.
To top it off, the Suzuki Swift Sport is £66 cheaper to buy. It's not a lot, but it amounts to around a tank and a half of fuel or nearly six month's road tax – when you put it like that, it makes a difference.
It's not just in the driving dynamics where the Suzuki Swift Sport excels, either. The car also comes better equipped than the Renault as standard, boasting climate control and keyless entry (neither of which are available on the Twingo), as well as curtain and driver's knee airbags on top of the twin front and side airbags on the Renault.
For more information on the Suzuki Swift Sport, or to book a test drive and experience the sensational dynamics of the superbly capable Japanese hot hatchback, why not visit our Suzuki showroom in Effingham, Surrey.
If you own a Suzuki Swift Sport, why not let us know what you think of it below?
Similar Articles
The  Mazda 2 has just launched a new model to the award winning compact city car line up: the all-new Mazda 2 Self-Charging Full Hybrid. A collaboration using class leading Toyota hybrid technology, Mazda 2 Hybrid will help drive Mazda's commitment to a more sustainable future. The full hybrid supermini hatchback has two different power […]
With 4 models to choose from, and huge improvements made in its eco credentials, safety and overall style, Mazda have pulled the stops out to produce a reliable, versatile all-around compact hatchback.
Excited for the launch of Mazda's first plug in hybrid? The all-new Mazda CX-60 SUV will face its World premiere on 8th March, when more details about this exciting new model will be unveiled. Watch the live stream here: https://mzd.tools/Mazda-CX-60-Launch The Mazda CX-60 is the first of two new models from Mazda's "Large Product Group" […]