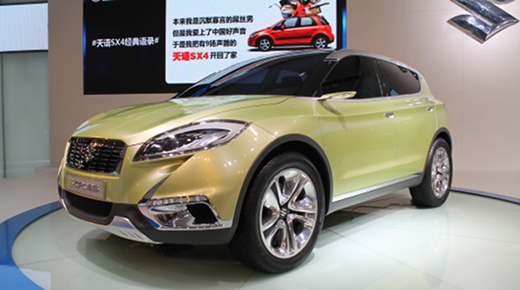 Suzuki: five new models by 2016
Suzuki European Chairman Takanori Suzuki has confirmed the Japanese car company will bring five new models to market in the next three years.
The Japanese highlighted these would include a "very small car" – likely to be Suzuki's city car model – while the first new vehicle to see production will be the S-Cross crossover that made its debut at this year's Paris Motor Show.
Suzuki has not yet confirmed if the S-Cross concept will keep its prototype name or whether the vehicle will be renamed for production. It is known however, that the firm's coupe-like 4×4 is not a direct replacement for the current SX4 off-roader.
Based on a new platform, the S-Cross will be much larger than the vehicle it is set to replace.
The car will feature the latest version of Suzuki's i-AWD intelligent four-wheel drive system and will be powered by either a 1.6-litre petrol or turbodiesel engine.
Front-wheel drive versions will also be offered for those who don't require the option of all-wheel drive.
The best thing about the S-Cross' production counterpart however, is that the road-going version will retain the concept's looks, as well as its stylish and functional interior.
The S-Cross features flexible seating for five occupants and boot space that will challenge class leaders, according to Suzuki – it's practical as well as bold, striking and attractive, offering the perfect blend of qualities.
Suzuki is targeting young families with active lifestyles, something the car's fresh, athletic styling exudes.
It's thought the production version of the S-Cross will be on sale in the UK at some point in 2013, although decisions as to which motor show (Geneva in March or Frankfurt in September) the finished article will be shown at are yet to be finalised.
European Chairman Takanori outlined that the five-strong group of new models will "underscore Suzuki's commitment to the European market", despite the firm withdrawing from the US market recently.
Suzuki is also committed to increasing its production at the firm's European manufacturing plant in Magyar, Hungary.
With the Japanese Yen not fairing very well against European currencies, moving more production to Europe should also help make the new vehicles cheaper by the time they come to market. All good news for Suzuki customers.
Similar Articles
The bold yet refined new Suzuki S-Cross 2022 has now been released, packed with new premium features and advanced safety equipment as standard, leading as one of the best in it's class.
The following review has been written by one of our customers, Kate B: Moving with technology and conscious of the recent push to Electric Vehicles, I wanted to make the first move, however, still have the flexibility of a petrol vehicle for long journeys as my daughter lives a couple of hours away from me. […]
The All-New Suzuki SWACE  Watch this space, for the new Suzuki Swace. Suzuki have had an transformative year and more is still to come. Suzuki have recently announced their second product derived from the newest partnership with Toyota, the all-new Suzuki Swace. The new, super spacious, estate car is a fully self-charging hybrid with a […]