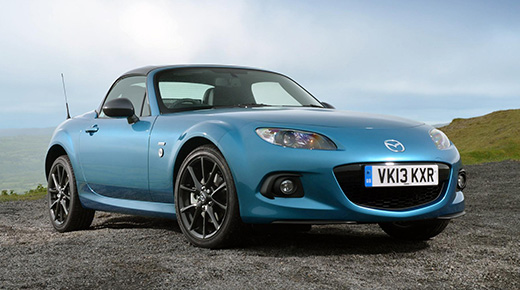 Friday Focus: what makes the Mazda MX5 so good?
It's no secret how good the Mazda MX5 is – in fact, more than 945,000 people worldwide agree.
As of 31 May 2014, that's how many MX5s Mazda had sold since the car's introduction back in 1989 at the Chicago Auto Show. So it's an intoxicating and seriously attractive recipe that's proved a massive success, and as part of our Friday Focus series, we're investigating exactly what it is that makes the car so brilliant.
First up, it's the way it drives and handles. This is a sports car at heart, so communicative handling and an well setup chassis are key. From the first generation car right the way through to the current third-generation Mazda MX5, it's one point that's always been constant.
It stems from the advanced lightweight engineering – something the all-new next-generation Mazda MX5 will champion with the Japanese manufacturer's Skyactiv lightweight technology.
The low kerb weight brings with it many benefits. The excellent ride and handling stems from the lack of mass (it stands to reason the less have the suspension has to control, the more accurately it can do its job), as does the performance and fuel efficiency.
The original Mazda MX5 weighed just 980kg, which meant the eager 115hp 1.6-litre engine was a great match.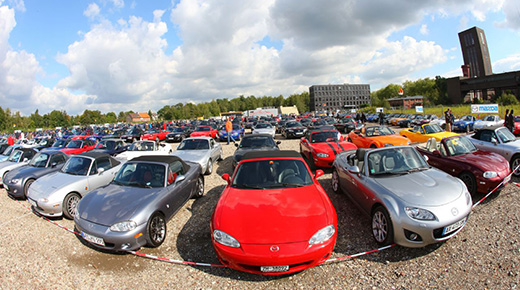 Fast forward 25 years to 2014 and those principles still hold true today.
Despite the addition of more creature comforts – including air conditioning, cruise control, an electric roof etc.) – not to mention the added weight of all the safety equipment and sophisticated traction control electronics, the base Mazda MX5 still only weighs 1,150kg.
Allied to a 126hp 1.8-litre engine, this means it can sprint from 0-62mph in 9.9 seconds. Of course, there's more power on offer if you want it.
You can opt for a 160hp 2.0-litre model in the folding hard top MX5 Roadster Coupe, which completes the same print 2.0 seconds faster at 7.9 seconds.
Despite this brilliant turn of performance – and thanks in part again to that low kerb weight – the current Mazda MX5 returns an amazing 39.8mpg. Fantastic economy for such a sporty car, but expect this to increase a significant amount for the all-new fourth-generation vehicle.
You might think that being a two-seater, the Mazda MX5 isn't particularly practical. But you'd be wrong. There's plenty of storage inside and with a 150-litre boot, there's more than enough room for two weekend bags.
Looks, of course, have helped the Mazda MX5 become so successful. You can't ignore it, the car has been called a few names over the years, but it's delicate yet purposeful stance really lend it presence.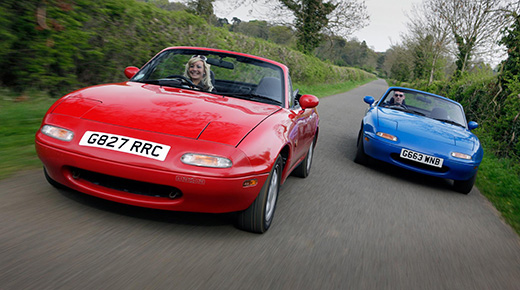 And with the next-generation car set to follow Mazda's Kodo – Soul of Motion design direction, it's sure to look stunning.
So, that's the recipe that makes the Mazda MX5 so good, and on that's been honed and refined over the years. It's set to get a few more tweaks next year when the all-new car arrives.
We can't wait for that, but in the meantime, we want to hear from our Mazda MX5 owners about your experiences with your car.
What made you buy one? How many have you owned? What is it you love so much about the car? Have you had any memorable trips or track days in your MX5?
We want to hear from you, so tell us your stories on Twitter or Facebook.
Similar Articles
The  Mazda 2 has just launched a new model to the award winning compact city car line up: the all-new Mazda 2 Self-Charging Full Hybrid. A collaboration using class leading Toyota hybrid technology, Mazda 2 Hybrid will help drive Mazda's commitment to a more sustainable future. The full hybrid supermini hatchback has two different power […]
With 4 models to choose from, and huge improvements made in its eco credentials, safety and overall style, Mazda have pulled the stops out to produce a reliable, versatile all-around compact hatchback.
Excited for the launch of Mazda's first plug in hybrid? The all-new Mazda CX-60 SUV will face its World premiere on 8th March, when more details about this exciting new model will be unveiled. Watch the live stream here: https://mzd.tools/Mazda-CX-60-Launch The Mazda CX-60 is the first of two new models from Mazda's "Large Product Group" […]