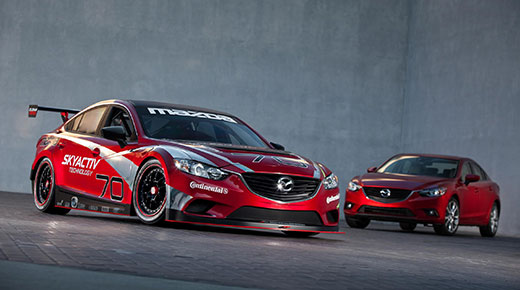 Friday Focus: Mazda motorsport improving the breed
Mazda motorsport made world history last weekend at the famous Indianapolis Motor Speedway.
Its Mazda 6 diesel took victory in the GX class, notching up the first win for a diesel race car ever at the 'Brickyard' circuit, proving how development of the firm's Skyactiv-D diesel engine on-track can help improvements on the road.
That might sound like an odd conclusion to draw, but features such as disc brakes, direct fuel injection and traction control were all invented in the cauldron of competition, eventually filtering down onto road cars to make them more efficient and safer.
Mazda was the only entrant in the race running a diesel engine, but that didn't stop it competing against the might of marques like Porsche – celebrating the 50th anniversary of its 911 sports car this year. A true racing icon.
Mazda driver Sylvain Tremblay took the lead in the three-hour race to bring the Mazda 6 racer home at the head of its class. It was the fifth win in a row for the team, which actually moves it ahead of Porsche after eight of the 12 races on the calendar – an amazing achievement for a modified diesel family saloon.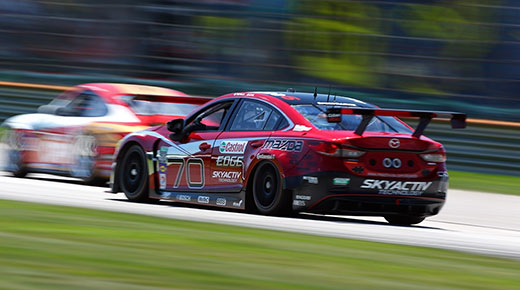 But that's the point of the Mazda 6, isn't it? To be practical, efficient, safe and a strong performer in both saloon and estate guise.
Well development on the race track can help that on the road, too.
FROM RACE TO ROAD
Take fuel economy – if you can burn less fuel for the same performance you'll stay out of the pits for longer, meaning you can gain more time on your opponents.
With a bit of repurposing, this technology can be used tin road cars to make your engine burn cleaner, use less fuel and go further on a tank of petrol or diesel. That's why the Mazda 6 Skyactiv-D will return up to 67.3mpg combined with just 108g/km CO2 emissions.
To show the show the crossover between race and road, the 2.2-litre Mazda 6 race car's engine used 51% stock parts to prove motorsport success could be achieved with mostly standard items.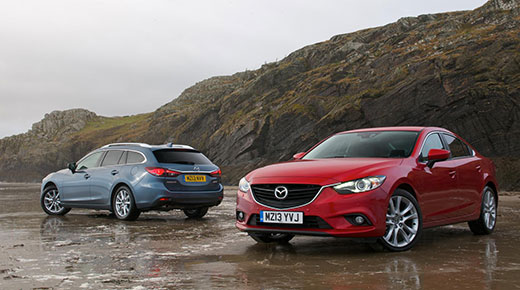 Safety's important, too. While race cars have roll cages, the basic structure needs to be designed to withstand high energy impacts, protecting the occupants from injury – the exact same qualities you want in your road car if you're going to have precious cargo on board.
And with a full five-star Euro NCAP crash safety rating, and a lightweight but superbly strong chassis using high-strength and ultra-high-strength steels to keep efficiency and rigidity high, that's exactly what you get.
Mazda prides itself on delivering an involving drive, no matter what the car is. Developing our vehicles' dynamics on the track ensures that just because you need space for the rigours of family life or welcome the efficiency as a company car driver, you don't have to sacrifice driving enjoyment.
The new Mazda 6 shares many character traits with the Mazda 6 race car. They may be designed for slightly different purposes, but at the heart of the concept is a set of common goals.
So why not explore it for yourself – get down to T W White & Sons Mazda showrooms in Bookham, Surrey or Orpington, Kent this weekend if you have a spare half an hour and take a test drive, or contact our sales team on 0844 539 6753 to book you appointment.
Maybe you've already driven a Mazda 6 or own one yourself? We want to know what you think of it – the efficiency, the practicality and the superb chassis and powertrains – so why not tweet to us @twwhiteandsons or leave comment on our Facebook page.
Similar Articles
The  Mazda 2 has just launched a new model to the award winning compact city car line up: the all-new Mazda 2 Self-Charging Full Hybrid. A collaboration using class leading Toyota hybrid technology, Mazda 2 Hybrid will help drive Mazda's commitment to a more sustainable future. The full hybrid supermini hatchback has two different power […]
With 4 models to choose from, and huge improvements made in its eco credentials, safety and overall style, Mazda have pulled the stops out to produce a reliable, versatile all-around compact hatchback.
Excited for the launch of Mazda's first plug in hybrid? The all-new Mazda CX-60 SUV will face its World premiere on 8th March, when more details about this exciting new model will be unveiled. Watch the live stream here: https://mzd.tools/Mazda-CX-60-Launch The Mazda CX-60 is the first of two new models from Mazda's "Large Product Group" […]