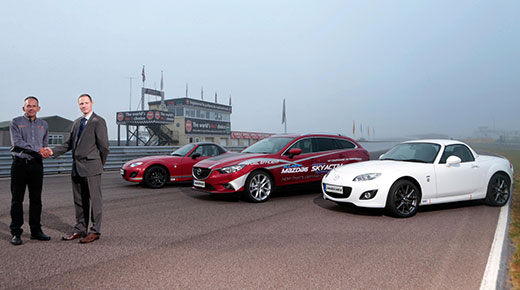 Mazda experience days motor into Thruxton
Mazda experience days has once again renewed its partnership with the prestigious Thurxton race circuit for the ninth year running, allowing petrolhead punters the chance to experience on-track thrills in some of the most dynamic and agile vehicles around.
We usually fill our Monday slot with a round-up of the motorsport news from the previous weekend here on the T W White & Sons blog, but with another weekend's break from track action (seems odd at the height of the British summer, doesn't it?) we thought we'd take a slightly different look at motorsport.
It's no secret racing is an expensive hobby, which means most of us can't afford to do it, even if we want to – but with Mazda at Thruxton, you can get a taste of what it's like to be a real racer, experiencing one of the UK's most thrilling and exclusive circuits.
Unlike most tracks in Britain, Thruxton does not open to the public all that often, meaning to tackle the fast, challenging back section of the airfield track you have to often pick your day with a circuit operating company.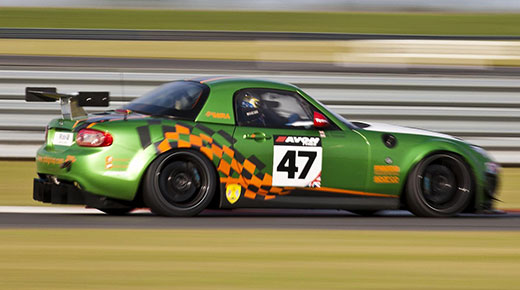 With Mazda, you can do it in the best vehicles around. The cars aren't tired old workhorses that have been thrashed to within an inch of their life like you might get on a usual track experience day, they're properly maintained, properly set up and properly capable machines.
You'll be able to get behind the wheel of Venture and Kuro versions of the Mazda MX5 Roadster Coupe with its revvy, zingy 160hp 2.0-litre engine to receive race-craft tuition (it might even spur you on to have a go at this) and enjoy a variety of driving experiences, topped off by some high-speed demonstration runs.
If you want to bed yourself in a little more gently, you'll also be able to sample the amazing new 175hp 2.2-litre turbodiesel Mazda 6 Tourer. It might sound odd to have an ultra-efficient, super-safe family-friendly vehicle on track, but thanks to the firm's Skyactiv construction, helping with safety and efficiency, it also means the Mazda 6 is incredibly agile due to its strong and responsive chassis.
With 175hp on tap and a solid slug of torque from the turbo, you won't be wanting for pace, either.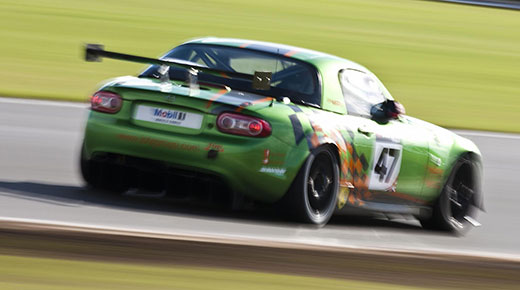 General manager Thruxton Motor Sport Centre, Andrew Franklin outlines:
"The choice of an estate car for circuit use is unusual, but we are confident that the all-new Mazda 6 Tourer with its punchy performance and Skyactiv technology will deliver a rare combination of power, torque, efficiency, responsive handling, speed and stability."
We're sure it will too, and once you've acclimatised to the track in the Tourer, it'd certainly be worth sampling it in Mazda's famous MX5 sports car. Franklin continues:
"We are delighted to continue our partnership with Mazda. The iconic Mazda MX5 is a true joy to drive, whatever your skill level, and makes an ideal sports car for visitors to our challenging circuit. It's a car with great handling and places drivers close to the ground so they feel fully involved with the action."
"Since 2005, our visitors have enjoyed the thrill of driving a variety of Mazda MX-5 models, while our instructors and technicians have appreciated the great build-quality and remarkable reliability of the Japanese brand's cars." Exactly what you want in motorsport, then…
The whole experience is competitively priced too, at just £125. Check it out here.
Have you driven a Mazda MX5 on track or even just on the road? What did you think to the handling and performance? We want to hear your feedback, so let us know @twwhiteandsons or on our Facebook page.
Similar Articles
The  Mazda 2 has just launched a new model to the award winning compact city car line up: the all-new Mazda 2 Self-Charging Full Hybrid. A collaboration using class leading Toyota hybrid technology, Mazda 2 Hybrid will help drive Mazda's commitment to a more sustainable future. The full hybrid supermini hatchback has two different power […]
With 4 models to choose from, and huge improvements made in its eco credentials, safety and overall style, Mazda have pulled the stops out to produce a reliable, versatile all-around compact hatchback.
Excited for the launch of Mazda's first plug in hybrid? The all-new Mazda CX-60 SUV will face its World premiere on 8th March, when more details about this exciting new model will be unveiled. Watch the live stream here: https://mzd.tools/Mazda-CX-60-Launch The Mazda CX-60 is the first of two new models from Mazda's "Large Product Group" […]