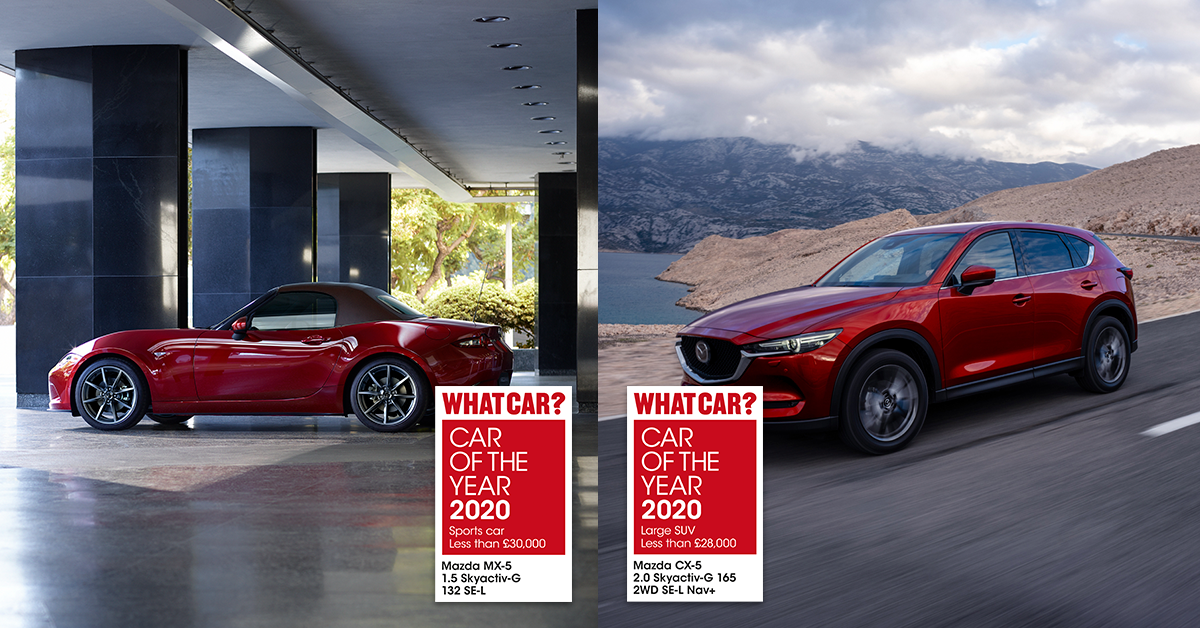 Double win for Mazda at 2020 WhatCar? Car of the Year Awards
Mazda wins once again at the 2020 WhatCar? Car of the Year Awards, taking home Best Sports Car for the MX-5 and Best Large SUV for the CX-5.
Award season gets off to a good start for Mazda, with not one, but two, wins at the 2020 WhatCar? Awards. The brands most well-known and well-loved car, the Mazda MX-5, was named Best Sports Car for under £30,000. And the stylish CX-5 took home Best Large SUV for under £28,000.
30 years of award-winning engineering and design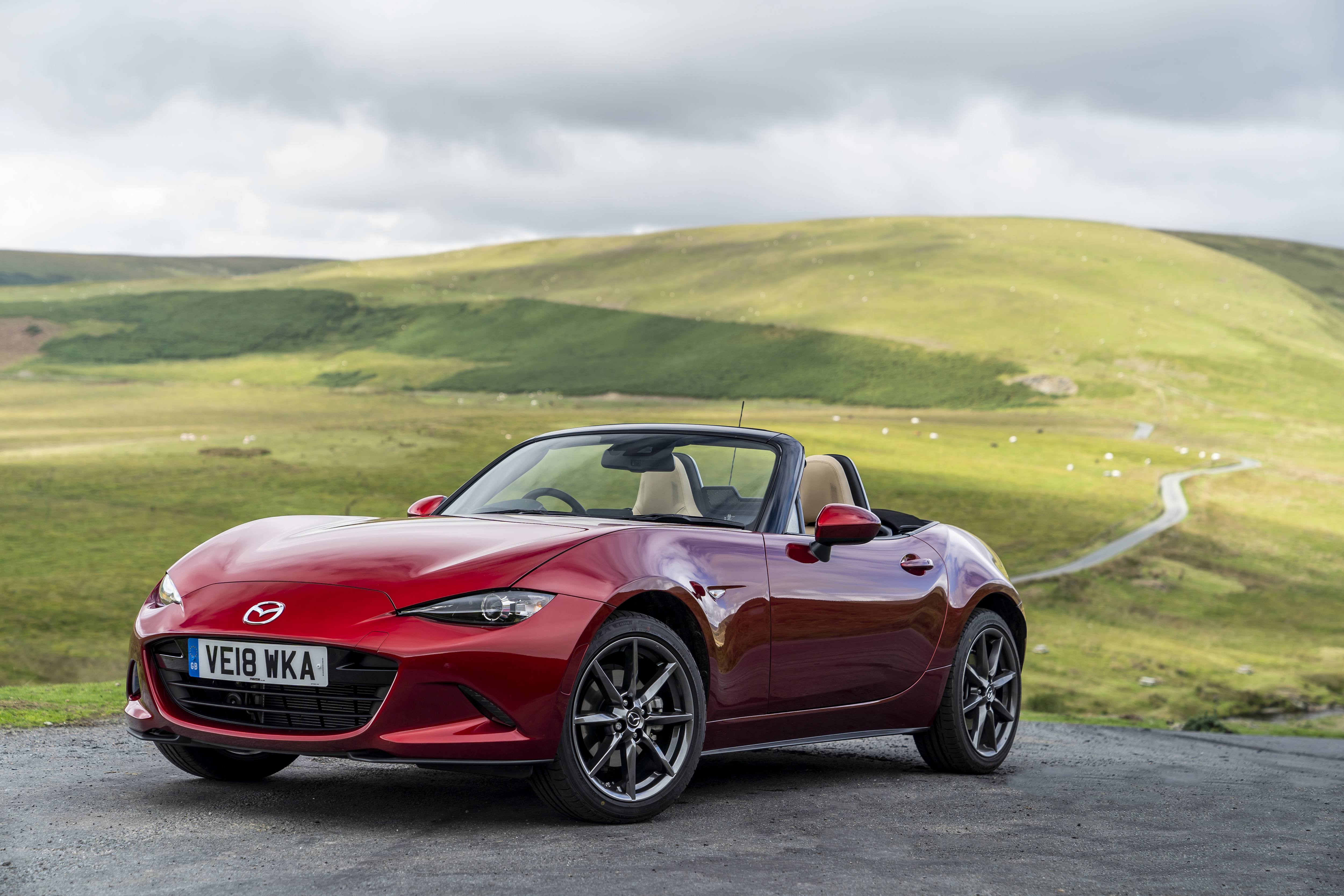 Since its debut in 1989 at the Chicago Motor Show, the MX-5 has been a favourite among critics and drivers alike. It perfectly embodies Mazda's Jinba Ittai philosophy of car-and-driver as one. Eye-catching design, dynamic driving and affordability have kept the MX-5 at the top of every Sports Car list. In fact, it is the world's bestselling two-seater sports car.
This is not the lastest generation's MX-5's first win at the WhatCar? Awards. In fact, it has wone the WhatCar? Best Sports Car award every year since its 2015 debut.
The MX-5 has also undergone an update for 202, which brings in a new top-trim level – the GT Sport Tech – in both convertible and RF. This new trim features stylish 17-inch BBS alloy wheels and Burgundy Nappa leather seats. The 2020 MX-5 also sees the introduction of Polymetal Grey Metallic to the MX-5 line-up.
Commenting on the MX-5's latest win, WhatCar? Editor Steve Huntingford said:
"if you have £250 burning a hole each month and want the most enjoyable thing on four wheels instead, the answer is the Mazda MX-5. It's tiny, for a start, so you can thread it along narrow B-roads without worrying about clashing mirrors with someone, while grip levels are fairly modest. That might not sound great for a sports car, but actually it means you can really explore the playful handling without having to travel at warp factor nine. With the option to fold the roof down for some topless fun and generous standard equipment, the MX-5 fully deserves to win its price point."
Reacting to the MX-5's success, Mazda UK's Managing Director Jeremy Thomson commented, "The MX-5 is a sports car that has resonated with enthusiastic British drivers ever since its debut and remains true to its original principle of being affordable, lightweight and above all fun-to-drive roadster."
A stylish SUV that combines style, fun and comfort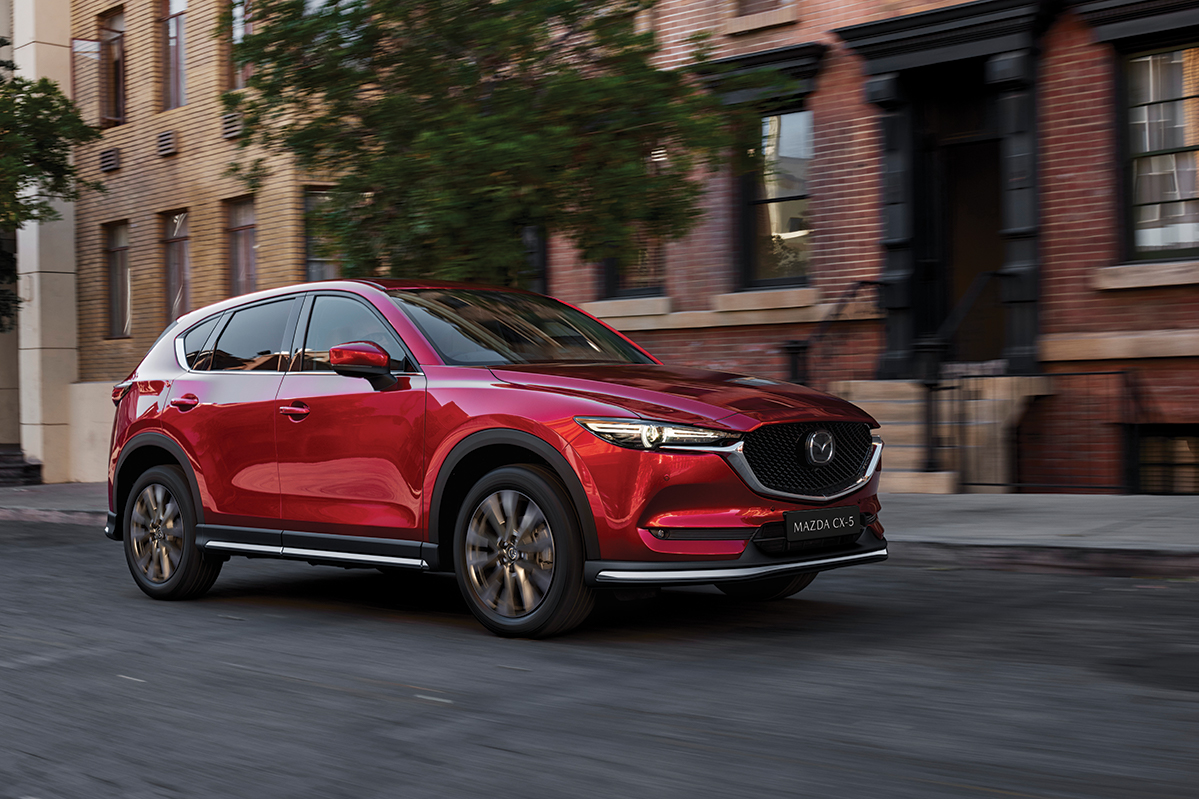 The arrival of the 2012 Mazda CX-5 ushered in a new era for Mazda in terms of performance, standard equipment, striking design and interior quality. It was the first Mazda model to feature the award-winning KODO: Soul of Motion design philosophy, and has been praised for its striking design and excellent quality. In its current form, the CX-5 still offers Mazda's iconic design and performance, while also offering a generous range of spec as standard. This includes LED headlights, front and rear parking sensors, dual-zone climate control air conditioning, Mazda Radar Cruise Control and Blind Sport Monitoring, and Apple CarPlay and Android Auto.
Its no surprise, then, to see the CX-5 taking home the Best Large SUV under £28,000 at the WhatCar? Awards. When asked about the CX-5s win, WhatCar? Editor Steve Huntingford had this to say:
"the Mazda CX-5 has no problem taking care of busy family life. There's decent room on its rear bench for six-footers, while its boot is big enough for a pair of pushchairs. And folding its rear seats down leaves a flat extended bay to make loading easy. The CX-5 also claims points by being more rewarding to drive than any of its rivals. Its 2.0-litre petrol engine is a strong, refined performer, while the confidence-inspiring handling that comes from plenty of grip and minimal body lean through corners means you can have fun on country roads. The slick manual gearbox even gives whiffs of Mazda's MX-5 sports car."
And Mazda's Jermey Thomson had this to say on the CX-5's win, "the CX-5 showcases how Mazda can make an SUV that's stylish, great to drive and capable of luring customers from premium-badged rivals. The award-winning CX-5 2.0 Skyactiv-G 2WD SE-L Nav+ model offers high levels of sophistication to our large SUV, and its outstanding balance of ride and handling demonstrates Mazda's continuous commitment to driver engagement, which alongside its style, quality and value makes it a winner."
To find out more about the Mazda MX-5 or CX-5, visit our website. Or to arrange a test drive contact a member of our showroom teams. They're based in Bookham, Weybridge and Orpington.
Similar Articles
The  Mazda 2 has just launched a new model to the award winning compact city car line up: the all-new Mazda 2 Self-Charging Full Hybrid. A collaboration using class leading Toyota hybrid technology, Mazda 2 Hybrid will help drive Mazda's commitment to a more sustainable future. The full hybrid supermini hatchback has two different power […]
With 4 models to choose from, and huge improvements made in its eco credentials, safety and overall style, Mazda have pulled the stops out to produce a reliable, versatile all-around compact hatchback.
Excited for the launch of Mazda's first plug in hybrid? The all-new Mazda CX-60 SUV will face its World premiere on 8th March, when more details about this exciting new model will be unveiled. Watch the live stream here: https://mzd.tools/Mazda-CX-60-Launch The Mazda CX-60 is the first of two new models from Mazda's "Large Product Group" […]