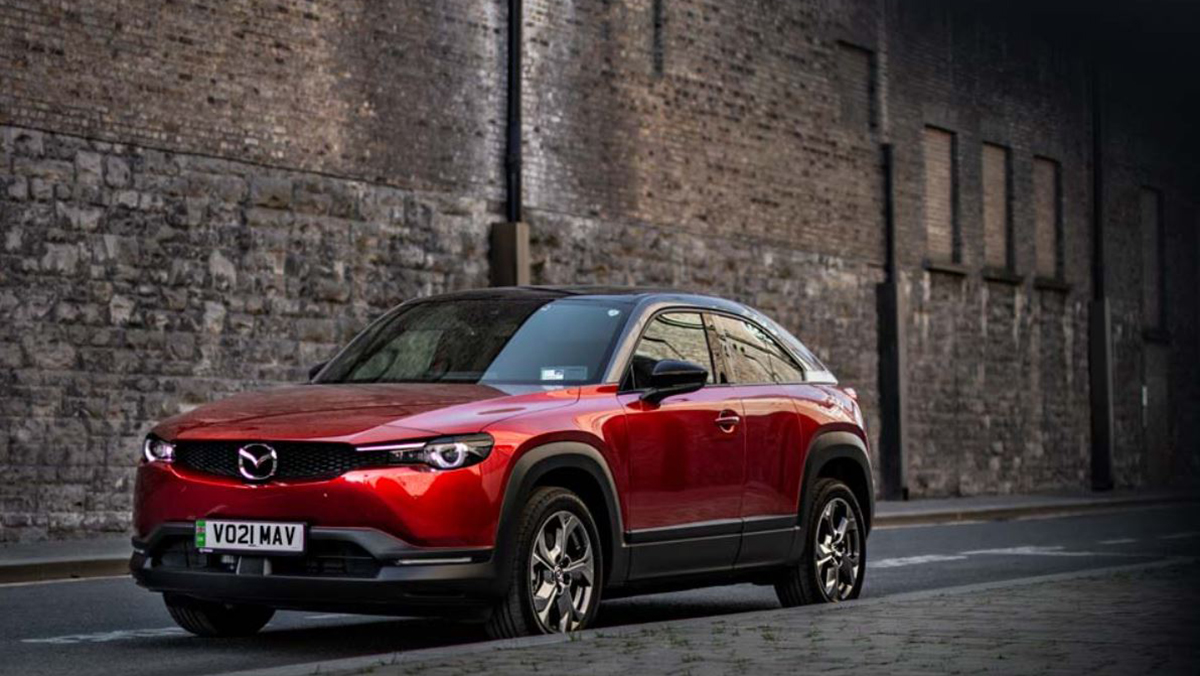 Customer review of the all-new Mazda MX-30 (Mr M)
The new Mazda MX-30 is Mazda's first all-new all-electric car, released in March 2021. Here at T W White and Sons, we are always keen to hear how our customers are getting on with their cars and their lifestyles. We asked a customer to share with us and you, their own personal experience with their all-new Mazda MX-30. Here is what they had to say:
Q: What was your reasoning behind buying the MX-30, did you own a Mazda beforehand or are you new to the brand?
A:
1. Design
2. Price
3. Advised that Mazda are good cars from a family member
4. The comparison of the customer experience between Mazda and my previous car (Mazda is excellent)
Q: When did you purchase the MX-30 and can you tell us about your driving experience behind the wheel so far?
A:
May 2021. I have done about 1,600 miles
1. The MX-30 gives an excellent driving experience
2. The range estimate is accurate and can be relied on
3. I have changed my driving style for electric cars e.g. smoother, slower.
The MX-30 is my first Mazda.
Q: Can you share with us your experience with charging the MX-30?
Specifically;
• Is it easy to charge?
• Did you take up the government's offer of the plug-in grant, if so how was your experience with installation?
• How often do you charge your MX-30 and how long does it take?
• How have you found the accessibility and convenience of on-the-go charging points?
A:
1. The MX-30 itself is as easy to charge as other electric cars I have owned. The apps and charging companies can be a different story!
2. I already have a charger at home, so not this time.
3.
i. On the road: I charge about every 70 miles, it takes 30-45 minutes depending on a) how much charge is left b) whether I charge to 80% or more than 80%.
ii. At home; about twice a month, but it does depend on the car usage. It takes about 4 hours
4. Good at this moment, sometimes the charging points are out of service, don't work, or being used. I have always found a point when I needed one, and the numbers are improving. However, I am not looking forward to when everyone has discovered electric cars!
Q: With the announcement of the range extender, is this something you will be considering or does the MX-30 exceed your daily range?
A:
I imagine the cost of installing a petrol engine, and everything that is involved, e.g. petrol tank, pump, pipes, engine and engine management, cooling etc. would be prohibitive. Would additional solar charging be an (cheaper) option? I am ok without the extender, and have managed within the 115 mile range that I currently have.
Q: Do you use any of the Mazda MX-30 Accessories including the MyMazda App? If so, how have you found it?
A:
I have used the app for:
b. Checking on the charging percentage
c. Checking that the doors are closed and locked
d. Remotely locking the doors
e. Checking for tyre pressure
I find that the updating of the car status to be slow and the notifications inconsistent. I do not have "walkaway locking" on my model, and if the app takes say ten minutes to tell me that I have left the car unlocked, it could already be stolen by the time I return to lock it!
Q: Are there any points of consideration you would suggest for a customer to consider before purchasing the Mazda MX-30?
A:
1. Consider that the range is (purposely) low, in comparison with other electric cars.
2. Full range, after charging, will decrease with time (The 124 has decreased to 115). This is a problem for all electric cars, (it depends on the charging type and frequency) but Mazda has the best "shortfall" at this time (e.g. another make quotes 199 miles, but did 150 in a test.
3. Be aware that the range estimation is excellent.
4. Come to terms with the rear doors! (I wasn't keen at first, but like them now)
5. Be prepared for one of the best driving experiences you have had! in my opinion
Q: Would you recommend the all-new Mazda MX-30?
A:
I do recommend the MX-30, but when more people have them, I will have to move on to my next "unique" Mazda!
Similar Articles
The  Mazda 2 has just launched a new model to the award winning compact city car line up: the all-new Mazda 2 Self-Charging Full Hybrid. A collaboration using class leading Toyota hybrid technology, Mazda 2 Hybrid will help drive Mazda's commitment to a more sustainable future. The full hybrid supermini hatchback has two different power […]
With 4 models to choose from, and huge improvements made in its eco credentials, safety and overall style, Mazda have pulled the stops out to produce a reliable, versatile all-around compact hatchback.
Excited for the launch of Mazda's first plug in hybrid? The all-new Mazda CX-60 SUV will face its World premiere on 8th March, when more details about this exciting new model will be unveiled. Watch the live stream here: https://mzd.tools/Mazda-CX-60-Launch The Mazda CX-60 is the first of two new models from Mazda's "Large Product Group" […]